Vol 61 No 4 (2016): Journal of the Chilean Chemical Society
Original Research Papers
CHANGES IN SECONDARY METABOLITES PROFILES AND BIOLOGICAL ACTIVITY OF THE FRESH FRUITING BODIES OF Stereum hirsutum EXPOSED TO HIGH-DOSE UV-B RADIATION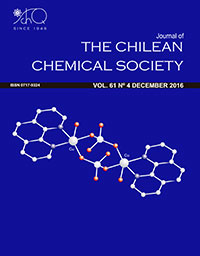 Published
December 10, 2016
Keywords
Saprophytic fungi

,

UV-B radiation

,

Secondary metabolites

,

Antibacterial properties

,

Antioxidant activity
How to Cite
Torres, S., Cabrera Pardo, J. R., Alonso, F., Bustos, E., Pérez, C., Palfner, G., Hernández, V., Uriarte, E., & Becerra, J. (2016). CHANGES IN SECONDARY METABOLITES PROFILES AND BIOLOGICAL ACTIVITY OF THE FRESH FRUITING BODIES OF Stereum hirsutum EXPOSED TO HIGH-DOSE UV-B RADIATION. Journal of the Chilean Chemical Society, 61(4). Retrieved from https://www.jcchems.com/index.php/JCCHEMS/article/view/116
Copyright (c) 2017 Solange Torres, Jaime R. Cabrera Pardo, Felipe Alonso, Evelyn Bustos, Claudia Pérez, Goetz Palfner, Víctor Hernández, Eugenio Uriarte, José Becerra
This work is licensed under a Creative Commons Attribution-NonCommercial-ShareAlike 4.0 International License.
Abstract
The present study aims to investigate the effects of ultraviolet radiation (type B) on the steroid and fatty acids content, phenolic compounds and biological activities of Stereum hirsutum wild fruiting bodies, which has been used by both Chinese and Korean folk medicine to treat cancer and recently as functional food. From another perspective, the distribution of steroid derivatives as well as fatty acids underwent significant changes after UV exposure over time. In our model of study UV-B radiation induced a decrease in the relative abundance of ergosterol derivatives while squalene increased. We also detected that UVB radiation (1.2 W m-2) enhanced the antioxidant activity of Stereum hirsutum, with the acetonic extract after 48 hours of radiation the most efficient with a half-maximal inhibitory concentration (IC50) of 339.9 μg/mL. Gas-mass chromatography (GC-MS) analysis at this 48 hours stage revealed a high content of phenolic compounds (70%). We observed a decrease in the antibacterial activity against Escherichia coli, Salmonella typhi and Salmonella typhimurium compared to their respective controls. The study concludes that UV-B influences the pathway of secondary metabolites to induce changes metabolic in the composition of sterols and fatty acids and increasing the abundance of antioxidant compounds in S. hirsutum.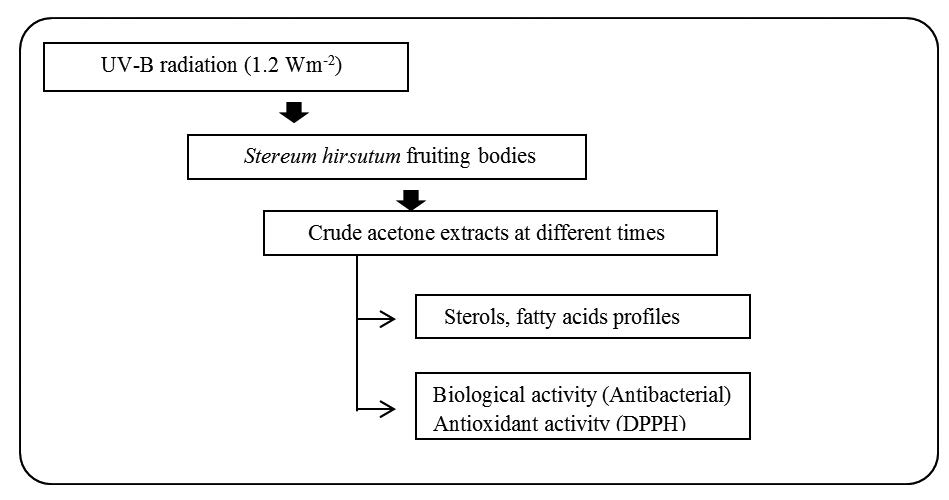 References
D. Johnson, Res. Microbiol. 154, 315, (2003).
KJ. Duguay, JN. Klinoromos, Appl Soil Eco. 14, 157, (2000).
VJ. Jasinghe, CO. Perera, Food Chem. 95, 638, (2006).
A. Teichman, PC. Dutta, A. Staffas, M. Jagerstad, LWT- Food Sci Technol. 40, 815, (2007).
VJ. Jasinghe, CO. Perera, Food Chem. 92, 541, (2005).
C. Villagrán, C. Le-Quesne, JC. Aravena, H. Jiménez, F. Hinojosa, Giess Geogr Schr. 15, 227, (1998).
G. Palfner, Aust Syst Bot. 19, 431, (2006).
PM. Kirk, PF. Cannon, DW. Minter, JA. Stalpers Dictionary of the Fungi, CABI Europe – UK, 2008.
K. Ma, L. Bao, J. Han, T. Jin, X. Yang, F. Zhao, S. Li, F. Song, M. Liu, H. Liu, Food Chem. 143, 239, (2014).
U. Krings, R. Berger, Food Chemistry 149, 10, (2014).
BS. Yun, IK. Lee, Y. Cho, S. Cho, ID. Yoo. J Nat Prod. 65, 786, (2002).
G. Pawle, SK. Singh, Curr Res Environ Appl Mycol. 4, 1, (2014).
WY. Huang , YZ. Cai, J. Xing, H. Corke, M. Sun, Econ Bot. 61, 4, (2007).
J. Becerra, M. Silva, J.Becerra, Rev Latinoamer Quím. 42, 77, (2014).
D. Rule, N. Cheeptham, Int J Speleol. 42, 147, (2013).