Vol 62 No 2 (2017): Journal of the Chilean Chemical Society
Original Research Papers
CONFIRMATION OF DEOXYNIVALENOL PRESENCE IN CHILEAN WHEAT BY HIGH-PERFORMANCE THIN-LAYER CHROMATOGRAPHY-MASS SPECTROMETRY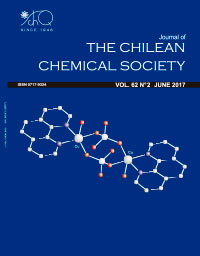 Keywords
Deoxynivalenol

,

mycotoxins

,

HPTLC/MS

,

Fusarium

,

TLC
How to Cite
Vega-Herrera, M., Madariaga, R., Aranda, M., & Morlock, G. E. (2017). CONFIRMATION OF DEOXYNIVALENOL PRESENCE IN CHILEAN WHEAT BY HIGH-PERFORMANCE THIN-LAYER CHROMATOGRAPHY-MASS SPECTROMETRY. Journal of the Chilean Chemical Society, 62(2). Retrieved from https://www.jcchems.com/index.php/JCCHEMS/article/view/181
Copyright (c) 2017 Mario Vega-Herrera, Ricardo Madariaga, Mario Aranda, Gertrud E. Morlock
This work is licensed under a Creative Commons Attribution-NonCommercial-ShareAlike 4.0 International License.
Abstract
Deoxynivalenol (DON) is a mycotoxin that belongs to trichothecene subgroup B. Due its detrimental effects for human health, DON has been analyzed and detected by nearly all chromatographic methods. The present work reports for the first time the application of HPTLC/MS to confirm the presence of DON in wheat crops. Chromatography was performed on silica gel 60 F254 HPTLC plates using toluene - ethyl acetate - formic acid 6:3:1 (V/V/V) as mobile phase. After post-chromatographic derivatization with 10 % AlCl3, fluorescence detection was carried out at UV 366/>400 nm. Bands identity and purity was confirmed by
mass spectrometry acquiring analytes directly from the sample bands by means of TLC/MS elution head-based interface. Both, sample and standard bands showed clear mass signals at m/z 341 that corresponds to the formate adduct of DON [M+HCOO]-. Thus, the presence of DON in the Chilean wheat sample was confirmed.

References
S. P. McCormick, A. M. Stanley, N. A. Stover, N. J. Alexander. Toxins 3, 802, (2011).
M. Maresca. Toxins 5, 784, (2013).
J. J. Pestka. Arch Toxicol 84, 663, (2010).
FAO/WHO (2011) Evaluation of certain contaminants in food: Seventysecond report of the Joint FAO/WHO Expert Committee on Food Additives.
WHO/IARC (1993) Some Naturally Occurring Substances: Food Items and Constituents, Heterocyclic Aromatic Amines and Mycotoxins in IARC Monographs on the Evaluation of Carcinogenic Risks to Humans vol 56.
European Commission. Official Journal of the European Union L364, 5, (2006).
J. Sun, Y. Wu. Food Control 69, 90, (2016).
A. Skendi, M. N. Irakli, M. D. Papageorgiou. Journal of Separation Science 39, 1425, (2016).
M. Muscarella, M. Iammarino, D. Nardiello, C. Palermo, D. Centonze. Talanta 97, 145, (2012).
Y. Liu, Y. Lu, L. Wang, F. Chang, L. Yang. Food Chem 197, Part B, 1271, (2016).
L. Escrivá, L. Manyes, G. Font, H. Berrada. Food Additives & Contaminants: Part A 33, 329, (2016).
Z. H. Shar, G. A. Sumbal, S. T. H. Sherazi, M. I. Bhanger, S. M. Nizamani. Chromatographia 77, 337, (2014).
A. Hallier, F. Celette, J. Coutarel, C. David. Food Addit Contam Part A-Chem 30, 2159, (2013).
S. Mishra, K. M. Ansari, P. D. Dwivedi, H. P. Pandey, M. Das. Food Control 30, 549, (2013).
V. L. Pereira, J. O. Fernandes, S. C. Cunha. Food Chem 182, 143, (2015).
S. Y. Jung, B. C. Choe, E. J. Choi, H. J. Jeong, Y. S. Hwang, G. Y. Shin, J. H. Kim. Food Sci Biotechnol 24, 1193, (2015).
J. Rubert, Z. Dzuman, M. Vaclavikova, M. Zachariasova, C. Soler, J. Hajslova. Talanta 99, 712, (2012).
Z. Radová, K. Holadová, J. Hajšlová. J Chromatogr A 829, 259, (1998).
International Conference on Harmonisation (ICH). ICH Harmonised tripartite guideline validation of analytical procedures: text and methodology Q2(R1) (2005).
H. Luftmann. Anal Bioanal Chem 378, 964, (2004).
U. Jautz, G. Morlock. J Chromatogr A 1128, 244, (2006).
G. Morlock, W. Schwack. Anal Bioanal Chem 385, 586, (2006).
A. Alpmann, G. Morlock. Anal Bioanal Chem 386, 1543, (2006).