Vol 62 No 2 (2017): Journal of the Chilean Chemical Society
Original Research Papers
VALIDATED STABILITY INDICATING RP-HPLC METHOD FOR SIMULTANEOUS DETERMINATION OF NORTRIPTYLINE AND PREGABALIN IN BULK AND COMBINED DOSAGE FORMULATIONS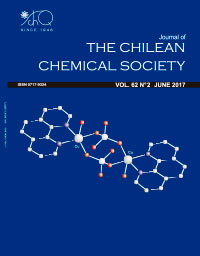 Keywords
Nortriptyline

,

Pregabalin

,

HPLC

,

Stability indicating

,

Validation
How to Cite
Potluri, H., Rao Battula, S., & Yeturu, S. (2017). VALIDATED STABILITY INDICATING RP-HPLC METHOD FOR SIMULTANEOUS DETERMINATION OF NORTRIPTYLINE AND PREGABALIN IN BULK AND COMBINED DOSAGE FORMULATIONS. Journal of the Chilean Chemical Society, 62(2). Retrieved from https://www.jcchems.com/index.php/JCCHEMS/article/view/192
Copyright (c) 2017 Haritha Potluri, Sreenivasa Rao Battula, Sunandamma Yeturu
This work is licensed under a Creative Commons Attribution-NonCommercial-ShareAlike 4.0 International License.
Abstract
A simple and precise stability indicating RP-HPLC method was developed for simultaneous analysis of drug nortriptyline and pregabalin using BDS (250mm x 4.6 mm, 5m) C18 column at 210 nm of UV detection. Perchloric acid (0.1%) and acetonitrile in the ratio of 55:45 was used as the mobile phase with a flow rate of 1.0 ml/min and linearity response was established over the concentration range of 5-30 μg/ml for nortriptyline and 37.5-225 μg/ml for pregabalin. The active pharmaceutical ingredients recovered for nortriptyline and pregabalin are in the range of 100.60-101.65% and 100.59-101.74% respectively. The method was validated and was found to be stability indicating and can be successfully utilized for the quantitative analysis of pharmaceutical tablet dosage formulations containing nortriptyline and pregabalin.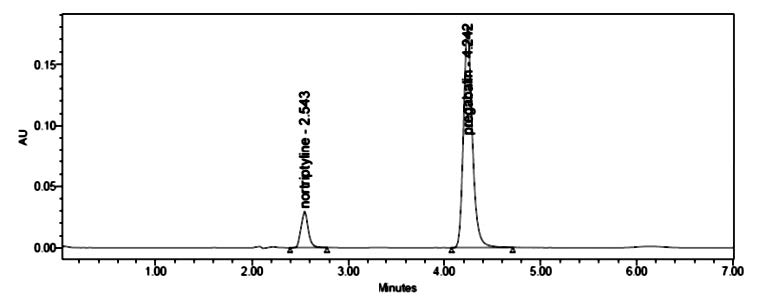 References
Gillman P K .Tricyclic antidepressant pharmacology and therapeutic drug interactions updated .Br. J. Pharmacol. 151, 737, (2007).
The British Pharmacopoeia, The Stationery Office, vol. 2, London, 2010; pp. 1295–1297.
Taylor CP, Angelotti T, Fauman E. Pharmacology and mechanism of action of pregabalin: The calcium channel alpha2-delta (alpha2-delta) subunit as a target for antiepileptic drug discovery. Epilepsy Res.73, 137, (2007).
Indian Pharmacopoeia, vol. 3, sixth edition, Ghaziabad, 2010; pp. 1960- 1961.
Bakshi M, Singh S. Development of validated stability indicating assay methods- critical review. J Pharm Biomed Anal. 28, 1011, (2002).
Geneva: International Conference on Harmonization; ICH. QIA (R2) Harmonised Tripartite Guideline. Stability Testing of New Drug Substances and Products, 2003; pp. 1-18.
Rahman H, Khatoon A, Rahman N. A validated kinetic method for determination of nortriptyline hydrochloride in pharmaceutical formulations. Int J Pharm Chem. 4, 99, (2014).
Ashour S, Kattan N. Simultaneous determination of nortriptyline hydrochloride and fluphenazine hydrochloride in microgram quantities from low dosage forms by liquid chromatography–UV detection. J Pharm Anal. 2, 437, (2012).
Kasawar G B, Farooqui M N .Development and validation of HPLC method for the determination of Pregabalin in capsules.Indian J Pharm Sci. 72 , 517, (2010).
Kannapan N, Nayak S P, Venkatachalam T, Prabhakaran V. Analytical RP-HPLC method for development and validation of pregabalin and methylcobalamine in combined capsule formulation. Appl Chem Res. 13, 85, (2010).
Mohan A J, Raj Kumar B, Bhavya T, Ashok Kumar A. RP-HPLC Method Development and validation for the simultaneous quantitative estimation of pregabalin, mecobalamin and alpha lipoic Acid in capsules. Int J Pharm Pharmsci. 6, 270, (2014).
Gelani H D, Chauhan P P, Shah S K. Practical Implication of Chromatographic Method for Estimation of Aceclofenac and Pregabalin in Bulk and Pharmaceutical Dosage Forms. Chromatography Research International. 5, (2014).
Pola L M, Sankar D G. Validated stability indicating RP-LC method for simultaneous quantitative estimation of aceclofenac and pregabalin in bulk drug and combined tablet dosage form. Int J Pharm. 5, 78, (2014).
Geneva: International Conference on Harmonization; ICH. Q2 (R1) Harmonised Tripartite Guideline. Validation of Analytical Procedures: Text and Methodology, 2005; pp. 1-13.