Vol 62 No 3 (2017): Journal of the Chilean Chemical Society
Original Research Papers
ESTIMATION OF THE UNCERTAINTY IN THE QUANTIFICATION OF H2, N2, CO, CO2 AND CH4 IN GAS SAMPLES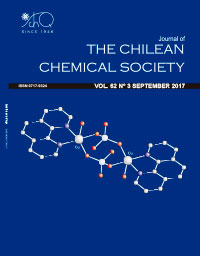 Published
September 2, 2017
Copyright (c) 2017 Journal of the Chilean Chemical Society
This work is licensed under a Creative Commons Attribution-NonCommercial-ShareAlike 4.0 International License.
Abstract
The quantification of H2, N2, CO, CO2 and CH4 in gas samples is a routine analysis performed in our laboratory, according to international
standards. All samples contain the five analytes, each one in different concentrations. Estimating uncertainty is important in order to determine the
sources of higher dispersion, in accordance to the requirements of NCh-ISO.17025.
References
Standard Practice for Analysis of Reformed Gas by Gas Chromatography, ASTM D1946-90, (2011).
Trace CO and CO2 in hydrogen and light gaseous hydrocarbons by GC, UOP Method 603-88.
Quantifying Uncertainty in Analytical Measurement, EURACHEM/ CITAC, 3rd Edition (2012).
C. Tessini, C. Mardones, L. Rivas, D. von Baer, Accred. Qual. Assur, 14, (2009).