Vol 63 No 3 (2018): Journal of the Chilean Chemical Society
Original Research Papers
THE TOTAL PHENOL, FLAVONOL AMOUNTS, ANTIOXIDANT CAPACITY AND ANTIRADICAL ACTIVITY OF SOME THYME SPECIES GROWING IN TURKEY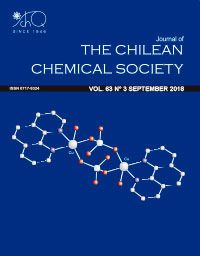 Published
September 12, 2018
Keywords
Thyme

,

Total phenol

,

Flavonol

,

Antioxidant capacity

,

Antiradical activity
Copyright (c) 2018 Journal of the Chilean Chemical Society
This work is licensed under a Creative Commons Attribution-NonCommercial-ShareAlike 4.0 International License.
Abstract
Total phenolic substance, flavonol amounts, antioxidant capacity and antiradical activity values of Karabaş thyme extract were determined as 74.52-163.10mg GAE/g,773.62-1006.69 μg RE /g, IC50=572.60-1035.6 μg/ml and 42.31-101.52mg/ g AAE, respectively.Total phenolic contents and amounts of flavonols of S.cuneifolia were found between 121.17 and 198.93mg GAE/g and 1050.17-1562.21 μg RE/g found and maximum amounts was obtained with U3 application. The total phenolic substance, flavonoid amounts, antioxidant capacity and antiradical activity of black thyme extracts values were found between 82.97 and 115.09mgGAE/g,657.68-999.44 μgRE /g,IC50=388.24-701.23μg / mland91.14-123.34mg AAE/ g, respectively. Total amount of phenolic substance of S.hortensis was found low quantities in all extracts, highest amount obtained with U3 application71.13mgGAE/g.The highest total phenolic and total flavonoid amounts of C.capitatus were found between 104.94 mgGAE/ g and 568.32 μgRE /g, respectively.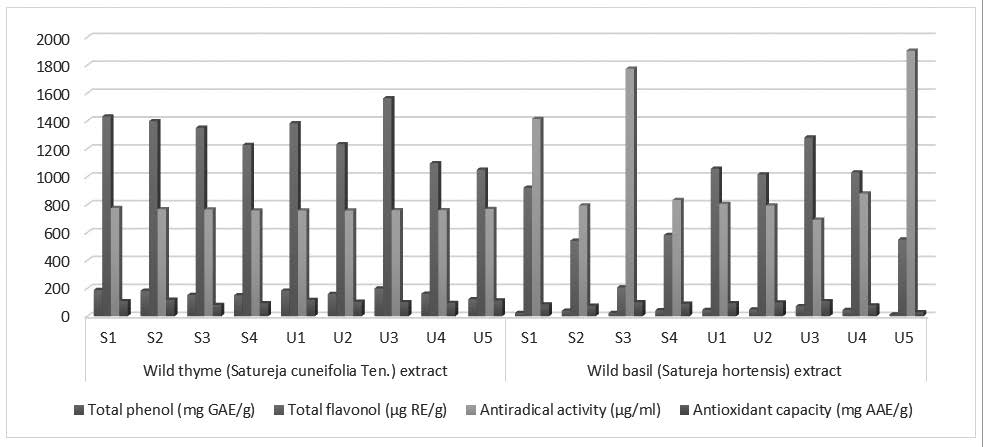 References
L.Ivanauskas, V. Jakštas, J. Radušienė, A. Lukošius, A. Aranauskas, Medicina (Kaunas) 44(1), 48-55 (2008).
D.Chrpova, L. Kourimska, M.H. Gordon, V. Hermanova, I. Roubickova, J. Panek, Czech J Food Scie 28, 317-325 (2010).
U.Justesen , P. Knuthsen , Food Chem 73: 245-250 (2001).
B. Shan, Y.Z. Cai, M. Sun, H. Corke, J Agric Food Chem 53:7749-7759 (2005).
C.E.Cross, B. Halliwell, E.T.Borish, Ann Int Med 107, 526-545 81987).
W.Brand-Williams, M.E. Cuvelier, C. Berset, C. LWT-Food Sci Technol 28, 25-30 (1995).
W.L.Stone, A.M. Papas, J National Cancer Inst 89, 1006–1014 (1997).
O.I. Aruoma, J Am Oil Chem Soc 75, 199–212 (1998).
W. Zheng, S.Y. Wang, J Agric Food Chem 49, 5165-5170 (2001).
V.L.Singleton, J.R. Rossi, Am J Enol Vit 16,144-158 (1965).
G.H. Dai, C. Andary, L. Mondolot ,D. Boubals , Eur J Plant Pathol 101,541-547 (1995).
H.J.D. Dorman, R.P. Hiltunen, M.J. Tikkanen, Food Chem 83,255-262 (2003).
P.Prieto, M. Pineda, M. Aguilar, Analytical Biochem 269, 337-341 (1999).
K. Özdamar, SPPS ile Bioistatistik ETAM A.Ş. Matbaa Tesisleri. Yayın No: 3. 454 s., (1999), Eskişehir.
M.Koşar, H.J.D. Dorman, O. BachmayerK.H.C. Başer, R. Hiltunen, R. Chem Nat Comp 39 (2), 161-166 (2003).
Ö.Eminağaoğlu, T. Bektaş, Ö. Yumrutaş, H. Aşkın Akbulut, D. Daferera,M. Polissiou, A. Sökmen, A. 2007. Food Chem 100, 339-343 (2007).
17. L.L.Mensor , F.S.Menezes, G.G.Leitao, A.S.Reis, T.C.Dos Santos,C.S. Coube, S.G. Leitao, Phytother Res 15 (2), 127-130 (2001).
K.Loziene, P.R. Venskutonis, A. Sipailiene, J. Labokas , Food Chem 103(2), 546-559 (2007).
V.Exarchou, N. Nenadis, M. Tsimidou, I.P. Gerothanassis, A. Troganis, D. Boskou, J Agric Food Chem 50, 5294-5299 (2002).
G. Miliauskas, P.R. Venskutonis, T.A. van Beek, Food Chem 85, 231- 237 (2004).